Training and Competing While Sick
Thursday, July 28, 2016

It happens. You travel across the planet for a jump camp. The tunnel can't be canceled. Competitions can't be rescheduled. Despite the fact that you feel miserable, you must train or compete.
People frequently ask me if turning professional makes skydiving un-fun. It's always fun! However, there can be moments which suck a bit. Honestly the only times I can think I really didn't want to jump or fly in the tunnel was when I had to train through an illness. It required grit and a serious commitment to a bigger goal. Sometimes you have to suck it up.
This article is for people who have made that decision already. You've listened to all of the warnings and considered the effect of getting your teammates sick. You're letting good judgement go to the wayside. I can't talk you out of it, it is going to happen.
How do you cope?
On-the-Line Advantage
It is difficult to get excited about much of anything when you are sick. Believe it or not, this might be an advantage. Our sport requires low arousal level, and being over the line is a common problem. With less activation, it might be easier to control this. Lean on that to give you that extra boost of confidence.
Energy Management
Being sick is often accompanied by a lack of energy and a desire to stay curled up in bed all day. Use what energy you do have very wisely. Treat energy like the scarce resource it is and up the lazy factor all the way. Don't pack. Get your teammates to carry your gear. Be efficient creeping. Avoid socializing (unless it makes you feel better). Sit down whenever possible. Focus every bit of energy you have on the competitive stuff that actually matters.
Acting!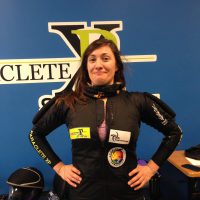 Ok, so I know in the last paragraph I just recommended you be a hermit in a dark room with a snuggie, but I'm recanting a little to say that when you do have to move around, walk, creep, head to the mock up and board the plane, get your acting skills on.
If you stand tall and act like a kick-arse athlete even when you feel like poo, your body will respond by reversing the effect. Standing tall and confident despite how you actually feel will start to produce those emotions. Act like a boss, and you will feel better for the moments you really need it.
Get Sleep and Eat Right
Make sure you are getting extra sleep and rest at night. Competitions are especially tough because they are such a wonderfully social event, but resist the temptation to go out with the crowd and, instead, bunker down for extra sleep and rest.
Eat nutritiously and drink lots of fluids. Avoid alcohol. Don't put any extra stress on your body so it can recover more quickly.
Use Caution – and a Doctor – With Your Meds
Medicating early and often is not unreasonable advice if you choose the right medications. Certain medications might cloud your judgement and make it unsafe for you to skydive. Some medications might actually be considered 'doping' at FAI regulated events. Before you choose what to use, discuss the implications with a doctor so you know what to expect.
Keep Your Teammates Safe
Wash your hands frequently (soap and water, full 20 seconds) and remind your teammates to do so too. Wouldn't hurt to have some hand sanitizer around. Minimize friendly social hugs, high fives, and other skydiver friendly contact when you are sick. Cover your mouth when you cough and sneeze. Don't touch anything (knobs, remotes, light switches) if you can help it. If you do, disinfect it (and maybe your visor too).
Being sick sucks. But if you get smart and dig deep, you can still do your best work.
Tags: competition, learning, training