How to Train Just Before Nationals
Thursday, August 22, 2019

The big day is coming up, but how do you schedule your training right before the meet? How much training do you do? What kinds of jumps do you plan?
How the Professionals Arrive and Train
People with real jobs are limited in how far in advance they can arrive at a big meet, but we should start by looking at a perfect scenario.
Professional teams usually show up well in advance, often around 4-5 days early. This might be even more if there are serious jet lag concerns across time zones. Fury and Rhythm would generally train for 2-3 days for about 5-7 jumps per day on 20-minute calls. The team would then have a complete day off two days before the meet, and then do a single jump the day right before. If at any point things became difficult or frustrating (long calls, weather delays, etc), the team would shrug their shoulders and go home early.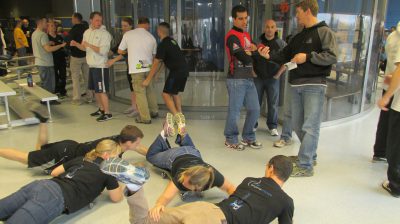 The early show-up time allows the team to adjust to the dropzone, get jumps in a non-frantic environment, and gives some flexibility for weather or other obstacles. The slower pace allows the team to mentally adjust to the slower pace of nationals. The day or two off beforehand gives the team adequate rest and a chance for a fun team activity. The 'whatever' attitude allows the team to practice being stress-free and letting difficulties roll-off. It also keeps the team from worrying over getting every last jump in. The idea is that by the time you get to nationals, your work is done. This week is about adjusting and feeling confident.
Top Takeaways
Of course, your team might not be able to take that much time off of work! But you can pull a few important principles.
Don't overdo it. You aren't going to add points to your average in a day. Being rested is way more important to your success.
Go slowish. Avoid back to backs, and never feel rushed through prep.
Psychologically prepare the team that every jump you get at this point is a bonus. You might get weathered, someone might feel sick, your luggage might be lost. Whatever. You don't need these jumps to do your best, you practiced all season long!
Whenever possible, avoid training during the peak social minefield right before the meet. Show up early in the day if you can and try to avoid jumping during the busiest times. You will obviously want to chat and catch up with everyone, but keep the focus on the jumps while you are jumping.
Make the last few jumps fun and confident. Don't pick your nemesis block and exits as the last thing you do. If you are training for a couple of days, you can take one last shot at your demon list, but finish with dessert!
Have fun! These are some of the most casual fun jumps of your season. Take some time with your team to do something cool or have a nice team dinner. Spend some time socializing with everyone you haven't seen all year.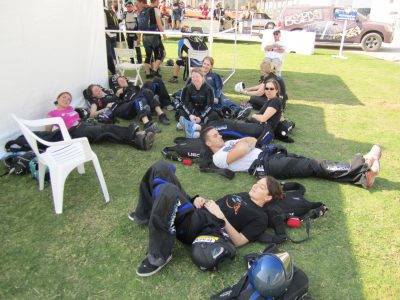 You Don't Have to Win the Warm-Up
How your training jumps go has very little bearing on how your meet will go. All pro teams have stories of the practice jumps going down the drain followed by a fantastic meet.
Good, bad, or ugly don't let these jumps influence your meet.
The work was done all season, enjoy the show!
Tags: 4way, 8way, competition