Up your safety game – sit through an AFF course!
Monday, September 6, 2021

Unless you are an aff instructor, you probably don't spend a lot of time reviewing the details you learned in your first jump course. Ask your DZ if you can sit through the ground portion of a class. It can be very enlightening!
Overwhelm and Lack of Reference
I was a studious first jump student. I read and learned every piece of information about skydiving I possibly could before I made that first jump. But in reality, I probably didn't catch half of what was said. I certainly didn't remember all the nuances by the time I had 100 jumps.
The first time you see skydiving information, your instructors are working hard to repeat and teach the most central concepts. But since this is the first exposure, you don't have a reference for how the exit, freefall, opening, and canopy ride will look and feel. This lack of experience makes it easy to miss details because you can't imagine these activities.
Now that you have some jumps on your belt, you'll be amazed at what you didn't absorb the first time!
Things Forgotten
In skydiving, we don't encounter emergencies on every jump. You don't see two parachutes out malfunctions very often (hopefully!). Rare situations get pushed to the back as normal skydives become normal. There is a good chance you don't brush up on your SIM every weekend before jumping. You may have forgotten an odd EP, a landing priority, or a safety precaution.
Going through an AFF course reminds you of some of what you have forgotten!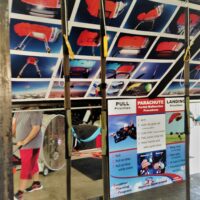 Visualizing What You Know
When was the last time you went through ALL the malfunctions in your head? An AFF course reviews this material giving you ample opportunity to visualize lots of situations. Even if you can't sit through the whole class, just revisiting this part is a great way to keep sharp!
Sitting in on a course reinforces what you know and makes it more accessible in an emergency. Talk to your DZ today and make time to sit through a course. You'll learn a ton even if you have no intention of becoming an instructor!