Safety philosophies: Five fantastic resources
Monday, March 14, 2022

Are you looking to up your skydiving safety game? Here are five great articles to put you in a positive mindset this season.
Military Aviation's Lessons for Skydiving
by Chet Boyce, Parachutist March 2017
I love this article. Chet talks about a "swiss cheese" model of accidents – the idea that when the holes in our safety programs and poor habits line up, an accident slips through. Adding more layers and reducing the gaps reduces accidents.
https://uspa.org/portals/0/parachutist/archives/March-2017/HTML5/index.html
Note: this is on page 55 of this issue of Parachutist; you may have to flip through to find it.
Are YOU in the Danger Zone?
By Lesley Gale, Skydivemag.com Jun 2020
This article is a straight-talking compilation of risk factors from wise and experienced skydivers. There isn't any beating around the bush on this one – Are you male? High-pressure job? A better than average canopy pilot for your skill level? These are included in this list of high-risk factors for accidents.
https://www.skydivemag.com/new/danger-zone/
Are these winds ok to jump in?
By Jason Russel,  Parachutist May 2021
I love this article for walking through a thought process of evaluating winds. Jason provides a reasonable and balanced perspective as he walks through the many factors that contribute to a safe decision – including quality of the wind, experience level, and familiarity with the dropzone.
https://uspa.org/Discover/News/are-these-winds-ok-to-jump-in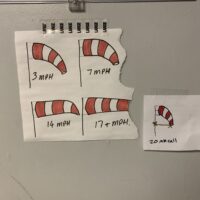 Dan BC Safety Day Video
By Dan BC, Youtube Mar 2020
You knew I was going to include this guy on this list at least once. Dan BC is genuinely passionate about everyone's safety. This safety day talk is fantastic and on topic.
https://www.youtube.com/watch?v=kHF4dctMUso&ab_channel=DanBrodsky-Chenfeld
Two-sided Approach to Safety
By Christy Frikken, Furycoaching.com July 2021
I have to include one of my own here, right? Both safe habits and staying mindful are required for safer skydiving. So choose what you do every time and pay attention to the moment!
https://furycoaching.com/2021/07/05/two-sided-approach-safety/
Tags: safety