Steps I took to get on my first professional team
Thursday, October 24, 2019

There is no single path to getting on a professional team, but here is my story. Luck and circumstance play a big role, but I have identified some of the general behaviors that helped me accomplish the goal of being on a pro team.
Decide to do it
The first crucial point was deciding that a pro 4-way team is what I wanted. I only had 200 jumps and was returning to work in the UK as a software engineer after an amazing Airspeed camp. The highlight was somehow winding up on a 4-way with Craig Girard, Mark Kirkby, and Eliana Rodriguez.
Driving from the desert back to England, I almost turned around four times. It was on the plane home that I decided professional skydiving was going to happen for me.
I spent the remainder of the year in the UK laying seeds for my very serious plan, including lining up a rookie team in the states upon my return, getting fit enough to run a marathon, choosing to move to AZ, strategizing how I would find sponsorship, sneaking off to tunnel camps in Orlando, and learning everything I could about the industry.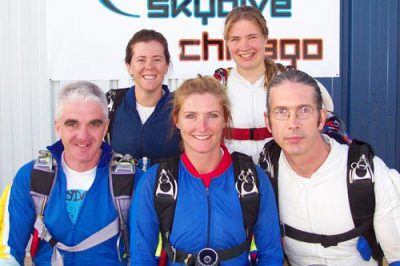 At this point, I didn't advertise my grand plan. My theory was that I would start exhibiting the behaviors to make my goal clear. I figured if people started guessing what I was up to I would know I was on the right track.
Patience for my real job
I had so few jumps at first that it was unrealistic and unwise for me to try and break into skydiving immediately. After finishing up my year working overseas, I moved directly to AZ (I was working remotely for the same company).  Instead I started dumping my resources into tunnel, an awesome newbie team called Audacity, and any other experience I could get my hands on. This period of patiently working at a real job allowed me to do a lot of observation and brainstorming.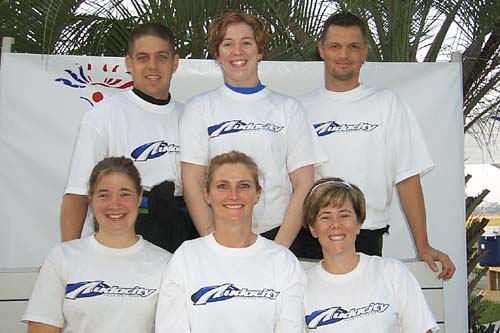 Accidental Leadership
I happened to be in AZ, which at the time was a tough environment to break into for a budding organizer. There are loads of former world champions just hanging around offering coaching services.
This forced me to get creative. I was so desperate for 4-way I started organizing a local "club" to get in more experience (I paid my own slots). On my modest 4-way team I did everything feasible to encourage the team to train more. I even remember patiently drilling one less motivated teammate on the formations using pretzels on the way to Nationals.
In the end, these projects got the notice of Dan BC, who was headed out to Perris to manage the DZ.
Found an entry-level job that improved my skills
I was ready to make a break and do something in the industry. With Dan BC's help I settled on the job as a tunnel instructor. This opportunity at the time was very rare, but a great fit. The tunnel allowed me to improve my flying skills, observe great coaches, and find sneakier opportunities to get better. The pay was dramatically different than my prior job, but I had enough skill-building chances to make the leap worthwhile.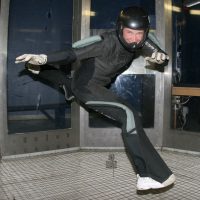 Stayed focused on 4-way
I didn't waiver on making 4way my priority. I wasn't sponsored, so I had to pay the jump bill just like everybody else. The bonus tunnel time I received went to training. Every other cent went to my weekend warrior team Exceed. I worked nights at the Perris tunnel on the weekends so I could train during the day. A car was too expensive, so I bummed rides. I lived in a trailer without a working shower or kitchen. I made it happen.
Waited for the opportunity
My behavior was obvious and consistent enough for the dropzone to see what I was aiming to do. The fact I was organizing programs on the tunnel and DZ made me an attractive fit for a sponsored team. Perris expressed interest in a professional team and Josh Hall and I jumped on it without hesitation and Perris Fury was formed.
Perris has a wise policy regarding setting relationships with teams like this. It doesn't just decide the dropzone needs a team. He waits for the right people to appear before opening that door. It is better for the DZ not to have a team than one that isn't going to produce the symbiotic relationship needed for both parties to succeed.
If a professional team is your goal, make sure your actions are consistent and aligned with your sponsors and it is much more likely to happen.
Want to fly with me (and very optionally listen to some of my old stories)? Grab some tunnel time!