How to Hire a Skydiving Coach, Use them Effectively, and Speed Up Your Learning
Monday, November 11, 2019

You found a coach! Get excited to be working with someone who can shape you into a better formation skydiver. Find out how to set up your time for success and how to squeeze the most knowledge from the experience.
Set Yourself Up for Success
Ask him or her!
First, if you don't know what you want or are unsure of what is best, ask! Coaches have lots of opinions and can help you make logistical decisions best for you. They can also help prioritize and focus your resources on the most effective plan for a single day or a whole season.
Discuss Details
Whether you are a team or an individual, make sure you are discussing all the details with the coach beforehand. This will avoid the nasty "I thought you were booking packers"-type surprise. Clarify who is booking tunnel, confirming with the dropzone, finding video, and arranging packers. If you lack any of these resources the coach can help you find what you need.
Clarify Payment
Be clear on the coach's rates and how they will be paid. If they are traveling for you, ask about travel fees and expenses. If you are reserving their time, ask about cancellation and weather policies.
Review Roles
If you are booking a coach for multiple camps or a whole season, clarify roles. Talk briefly about who oversees meet times, communicating changes, making dive plans, and captaining the group.
Exchange Contact Information
Have a way to reach your coach. Make sure you can communicate en route to the tunnel or dropzone.
Boost a Coach's Effect
Be ready to learn
Years of coaching has taught me I can't make anyone learn, no matter how badly I try. I can only provide the ideal circumstances and knowledge. A student must experience the struggle to genuinely learn.
With that in mind, here is what you should do to learn most effectively.
Show up on Time, Distraction-free
You are robbing yourself and teammates of time when you are late. To make the most of your coaching experience, be there for every minute.
Also, put down the phone and table your real-world problems. Deal with those issues later so you can be present for your training.
Set Goals
You don't have to have concrete goals for your jumps or tunnel, but it helps. If you can define what success looks like clearly to your coach, they can help you concretely.
Commit to New Ideas
Coaches have different ideas and methods. If a concept that differs from what someone told you in the past or you have done before  – ditch your skepticism for the moment. Jump in and try to make it work with 100% intent.
Ask Questions
Never be afraid to ask questions or for more information. Us coaches love to talk and will happily oblige. It also helps tremendously to hear your thought process through your questions. I can speed up, slow down, adjust the technical information, and clarify based on your feedback.
Tell Them What Works for You
If a particular drill or concept is working great for you, say so! Need more time to prep, let me know. Mention it if you prefer pictures over verbal descriptions. Over time I can adjust my phrasing, level of detail, and focal points to customize your experience.
Take Notes
This is a big one! Write down what you did, what you learned, and what to work on next time. Groups that take and study notes learn a lot faster than those who just wing it.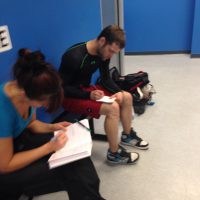 Coach's are an amazing resource that can streamline your skydiving day and turbocharge your learning. Make sure you work out all the details beforehand and make the most of your time with them. And if it worked out as you hoped, ask to book again!
If you are interested in getting some coaching, just email Christy with your goals and set up a perfect plan.