Is your 4-way team playing mistake whack-a-mole? Fix it with better daily goals.
Monday, February 14, 2022

Feel like you are spinning your wheels in training? It may be because you don't have targeted and specific goals on every jump. Choosing intelligent goals for each camp, day, and jump is the difference between teams that flounder and teams that improve quickly.
Critical Training Tool
If your team isn't articulating clear daily objectives during training, you are cheating yourselves. The key to success is the ability to choose a skill to improve, communicate it, attempt it, and review your jumps with that in mind.
If you don't have a clear target or lose focus throughout the day, you won't improve the big aspects of your game. Instead, it will feel like a game of whack-a-mole with little problems that pop up again and again.
Each jump with purpose
The magic of daily goals only works if you know what you are trying to accomplish every single jump. Unfortunately, it is easy to fall into the trap of "get better at everything." While it is true that you are always trying to execute everything flawlessly, you have to hone your attention on a couple of manageable things to be effective.
It is easy to lose sight of what you are trying to accomplish as the day wears on, even for pro teams like Rhythm. As a coach, one of my biggest contributions is refocusing people on what they are trying to improve each jump. If you don't have a coach handy, assign someone to remind the group during prep and before each jump. These frequent prompts make a world of difference.
Scope of a daily goal
Each day or camp should have some specific targeted goals. These goals should be more precise than "go faster" but not overly detailed like  "key the six faster." Instead, the plans you set should be the kind of targets that allow you to create a group of jumps that focus on that skill.
Number of daily goals
Set one or two goals a day, with new ones every couple of days over an entire camp.
If you are trying to fix dozens of things each day, you will not make significant progress on any of them. You'll be scratching your head at the end, wondering if you improved anything at all.
You can set new goals each day or work on a big concept for a couple of days. Shifting your targets can help keep things fresh and helps with focus.
Debrief the goal first
Like any goal, you should be able to look at a jump and say whether you did it or not… Imagine yourself in the debrief; what would it look like to say, "yes, that was it!". It doesn't need to be quantifiable (though it is excellent when it can be!), but it needs a success and failure state.
When you debrief, start with the goal for every jump before you dive into technical details. Talking about the daily mission first will help adjust the course and improve the primary goal throughout the day. Plus, starting with the daily goals will help you stay focused on the big picture objectives on subsequent jumps.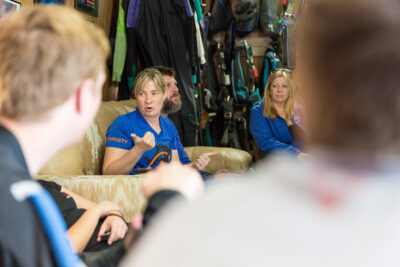 Example Daily Goals
On to the example goals! There are infinite numbers of goals you can set for your team. But here are a bunch of prevalent ideas to consider.
Better block builds
Work on the hill
Catch all blocks
Fix a certain subset of blocks
Fast all randoms
B slot random pace
Random sprints
Cleaner skydiving / more flashing
Togetherness on the randoms
Less crashy
Flow
Anticipation on switchers
Competition mindset
Better prep
Distraction control
Calmness
On and off grips together
More positive debriefs
Good jumps after a long day
Choosing and staying intent on one or two goals each day will help you make boost progress. Make sure the goals you choose are clearly defined and that the team remembers to prioritize them on every training jump. Remind yourselves what you are targeting on each jump during prep and before execution. Debrief the big stuff before digging into details. Do all this, and your team will enjoy new heights!