How Much Tunnel Should My Team Do?
Monday, November 18, 2019

How much wind tunnel time do you need for a season? I am asked this question from teams regularly. Here are the factors I consider in my answer.
Team vs. Individual
This article focuses on team flying. Within your season you will undoubtedly dedicate some team time to individual work.
Each teammate should consider doing personal time with the coach of their choice throughout the year in addition to the group commitment. You don't need to do it all together, so this is more flexible for many. Discuss it and see what everyone's budget allows.
Overall Budget
More isn't always better in life, but more tunnel is usually better in skydiving. Tunnel time means flight time, and because of it's cost and time effectiveness you should consider allocating a good chunk of your budget to it.
You get more practice at a tunnel camp. BUT you need to jump if you are doing a skydiving meet. Things are slightly different up there, and you can't completely neglect sky time.
Tunnel Geography
If you don't have a viable local tunnel, it gets more complicated. Extra costs and schedules for travel will chunk out more of your budget.
Season Length
You will want to fly the majority of your tunnel earlier in the year. Assuming you are finishing with a skydiving competition, you want to steer clear of the windy tube a couple of camps before the meet. It can take some time to adjust to lack of walls, fall rate, and exit so practicing in a tunnel right beforehand can be determinantal.
Climate
If you can't jump in the winter, it is a no brainer. Use the beautiful recirculating climate-controlled machine of wonder when you can't jump. If you can jump but there is a bigger risk of weather (like here in California), consider front-loading your time to mitigate the chance of a washed-out weekend.
Preference
I can't understand it myself, but some people hate the tunnel. If you are one of those people it is ok to tip the scales in favor of jumping. Jumping, after all, is super super fun.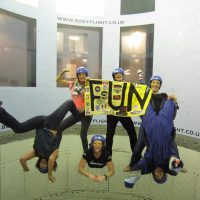 Examples
Ok. I get it. You want hard numbers.
I would suggest a team doing 100 jumps do 10 hours of tunnel. A team doing 300 jumps should do 20. A team doing 500 should look at 30. There is no magic formula here –just my best answer for an average team with good access to a semi-local tunnel. Adjust those numbers up and down appropriately for your circumstances.
Factor in your tunnel's location, your budget, season schedule, local climate, and preferences when choosing how much of your time to spend in the windy machine. Take advantage of the cost-effectiveness without underestimating the power of actually jumping!
Want to book some time right now? With or without a team? Use the button below to get in touch. We can set up a custom camp!