Great inside center drills
Monday, January 10, 2022

Are you looking for some tunnel drills to fine-tune your inside center game? Here are a few categories of skills that can target the inside center slot.
Stability
The inside center mostly has grips and is being gripped at the same time. So despite getting pushed, pulled, and twisted, you have to stay strong and centered to set angles for the rest of the team. Stability drills where you practice holding your ground against a variety of pressures can help improve this skill.
Presenting cats
The tail is taking a cat grip on you more than any other slot. To present cats, you'll want to keep your knees at a comfortable distance and avoid overfeeding. Pick drills that emphasize excellent cat presentation.
Being spun in a cat and sidebody
As a center, you don't spin many pieces; you get spun. So learn the challenging art of flying a sidebody and a cat with a partner turning you.

Carving
Part of being spun is learning to keep your hip pressed into your partner at the right time. This action is a tight carving motion. Target this with carving drills, like spinning a no contact compressed forwards or backward.
Flashing
Grip grip grip. With so many grips, you need to show clear separation. Drills that emphasize different types of flashing your hands away are helpful.
Flow drills
The inside center often has smaller moves while the outside center makes giant honking turns. Therefore, you should practice timing your tiny move to arrive at the formation at the same time as your outside center. This timing helps synchronicity and flow.
Flow drills emphasize the timing of your move-in addition to just being in the right spot.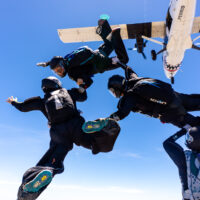 Grab some tunnel to work these inside center drills now!