Become a Formation Skydiving Rockstar with no work!
Monday, December 14, 2020

Lies. There is no such thing as effortless learning.
If only I could download what I know into your head like a cool sci-fi plot. I wish someone could have done that for me when I started! But alas, you have to learn the hard way.
A teacher can remove obstacles, but you have to do the work
As a coach, I can remove barriers to your learning and focus you on the right stuff. But just showing up is not enough. You have to work hard on and off the dropzone to focus, absorb, and mentally practice the material. It is frustrating to teach people who assume that hiring me will make them awesome without putting the work. There is only so much this type of student will progress even with my help.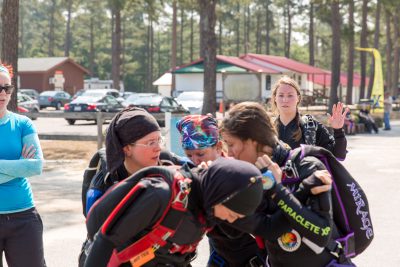 Learning happens while you struggle to recall
Just being exposed repeatedly to the material will not make you learn it. Learning happens when you struggle to remember something, not when you read and re-read it.
When someone is brain locking or struggling to remember a significant point observe how as a coach I don't rush in with the answer. That moment where my student is struggling to recall is the magic. If I (or a well-meaning but ill-directed teammate) blurt out the answer I am robbing them of that opportunity. Consider using the rule of two during your prep to help your team balance learning and correcting.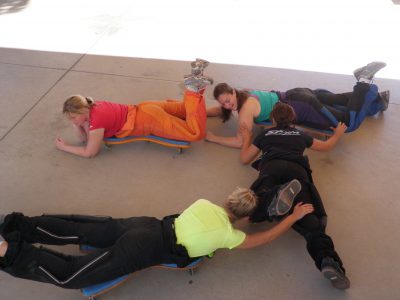 Learning is uncomfortable and requires attention
Learning new stuff is hard and mentally painful. It is much easier to daydream on the creepers, in the plane, and in the debriefs. You need to have the discipline to refocus yourself if you want to improve. Start by noting when your attention drifts so you can flag your next lapse and get back on track.
Learning has to build on other information
I can't teach you to line your shoulders to your clone's knees in a 4way donut if you don't know what a donut even is. There are a dozen things I'd love to teach you about a donut, but you can't absorb them all at once. They won't even make sense until you have mastered prior information. Show up to each camp having learned the material from the prior camp to unlock new levels of detail.
Information builds on itself. The more you know about a donut, the more detail you can grasp. Learn enough, and you'll start to make more prominent picture connections to other formations, dives, and draws.
In the end, you have to work. You can't just set up the team, hire the coach, and book the tunnel expecting not to dig in. Those things will only work if you train with intention, focus, and a good work ethic. Train yourself to pay attention, study between every camp, and embrace the challenge, and you'll be a 4-way superstar soon enough!
Wish you had someone to guide you as you work through the challenge? Find a team or get some tunnel.
Related
4-way Team Dynamic Tip: Rule of 2
How to Hire a Skydiving Coach, Use them Effectively, and Speed Up Your Learning