How to speed up your keys
Monday, July 18, 2022

Want to go faster? Speed up the keys! But it might not be as simple as trying to just releasing more quickly. So here is how you can speed up your key process the right way.
Cleanliness
First and foremost, team speed comes from clean, on-level, smooth builds. When there is momentum, crashing, harmful levels, and reachy grips, it takes longer to check for completeness.
When you start focusing on smooth perfect builds from point to point, the amount of noise in your skydive drops. When grips and people are precisely where they are supposed to be, it is natural for the key person to key more quickly since they can tell everything is ready.
Anticipation
Next up is anticipation. If you are not thinking of the next point as you finish the prior point, you will be flat-footed. Flat-footed teams aren't expecting the formation to be done and are not ready to key quickly. You get anticipation with experience, but you can train it with visualization and intention.
Togetherness
Togetherness is awesomeness. If you are on and off grips together, everything becomes more predictable. Out-of-sequence builds, and popcorn grips after a key feel junky. If the team isn't reacting to the key quickly by letting go, it slows down the key speed.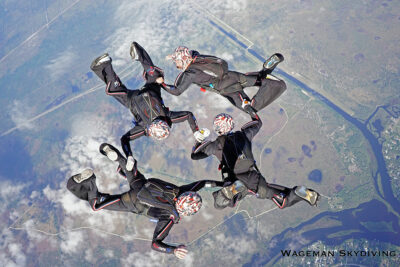 Block closes
Block closes are a specific case of last grips. Blocks usually have fewer grips to check at the end. All teams can identify and use the pre-finished picture to anticipate the key these faster.
Flow
In addition to picking up and letting go of grips together, a team can focus on physically arriving together. For example, if you have a small move and someone has a big move, you will reduce your speed to get to your slot simultaneously as your teammate. Getting there together produces a flowing feel to your skydives, and it makes everything feel effortless.
Predictable
Fast keys do no good if the rest of the team isn't reacting and releasing together in response. When teams try to force a key speed, it can result in abrupt changes in pace. You can imagine how an abrupt change in rate would be hard for a group to follow.
Overcome an erratic pace by building up cleanliness, anticipation, flow, and togetherness. When you do this, all of your keys will become faster uniformly.
Visualizing
You can practice your key speed by visualizing. If you have the key, spend time visualizing what you need to see and feel to key a point. If you don't have the key, imagine looking or feeling the key person release for each formation.
You might try to visualize in a style that slows down a point just before it is closed. In this slow down, start running through your checklist. Then, as you get closer to finishing, anticipate the next point, resume normal speed in your head, key it, move on, slow down again.
Last grips
If your team has built-in cleanliness, anticipation, and flow to a consistent degree, it can be worth looking at last grips on the creeper. In this phase, the team identifies where they expect the final grip in the build to be. Last grips can help with anticipation and communication.
BUT, work on consistency first. If your builds are never the same twice, adding a "last grip" dimension is just adding fuel to the fire.
Ready to speed up your keys? Pick up the pace uniformly by improving your cleanliness, anticipation, and togetherness. Visualize your key process regularly. Then, when things are ready, you can add techniques like last grips and flow to ramp things up!
Tags: 4way, 8way, competition, technique