Fury Tunnel Progression - Beta
Track your improvement!

Are you getting better?
The Fury Tunnel Progression will help you answer that question. This system helps guide your tunnel practice, record your improvement, and map out what skills you need to become a formation skydiving ninja.
How does it work?
When you fly with Fury Coaching with one on one in a tunnel, your coach will note your progress on various skills at your approximate level. The coach will debrief with you normally, explaining your rating and how to progress. Afterward, you'll receive a link to your personalized report.
What are the "levels"? How do I know which one I am at?
There are eight total levels: Starter, Fundamental, Proficient, Intermediate, Progressing, Advanced, Expert, and Master. Using the overall description, your coach will guess what you should be working on together. Keep in mind skills can and do skip around! If you are targeting the "Progressing" level, you might also get rated on an Advanced level skill or touch up an Intermediate one.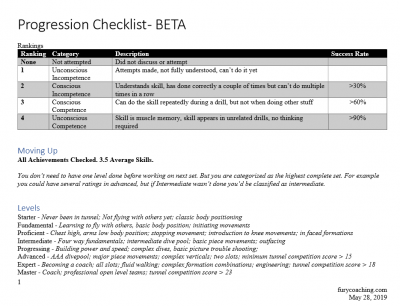 What are the skills?
This sounds amazing! How do I start?
Currently, do some tunnel coaching with Christy! You can also check out the Fury Tunnel Lab to experience multiple sessions in a single weekend.
Are these skills tunnel only?
Yes. Mostly. Everything is designed to be done in a wind tunnel without requiring skydiving. However they are intertwined, and some requirements can be transferred with approval.
What does "beta" mean?
It means things are still moving around a lot while we are testing the skill ladder with all kinds of people. You might see a skill set move up or down the chain, change the wording, or new challenges added.