Five Non-FS skills every FS competitor should master
Monday, November 16, 2020

Everything you learn about the sport can help you become a better FS competitor, but here are five big non-FS things that help teams the most.
Landing
Landing where you want to with confidence makes training easier. Skydivers who land well are much more likely to survive the season uninjured. They waste less energy on being terrified, crash landing, and walking back from Timbuktu. A couple of days of qualified canopy coaching can do wonders for a team.
Fitness
Skydiving won't get you into shape, but it helps your skydiving if you are fit. Long days of walking, creeping, jumping, running in from the landing area, and toting massive gear test your endurance. If you have a high level of fitness you will be able to keep your concentration and keep up quality as the day wears on.
Meditation
Learning to keep a quiet head and focus on the now is vital in our sport. One of the best ways to do that is meditation. I particularly like the guided form from headspace. Improving focus helps visualization and control the anxiety monsters that show up during meets.
Giving and receiving criticism
Being on a team and being coached involves analyzing and learning from your mistakes. It means you need to say things in a way that others can hear and accept your ideas. Lacking this skill slows your learning and increases team tension.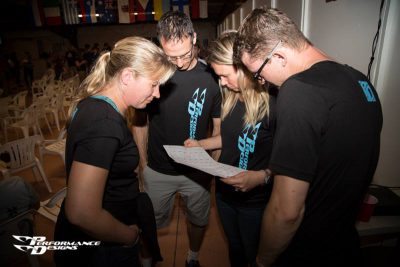 Goal Setting
Big season-long goals are great, and what everybody thinks when it comes to goal setting. But unsupervised teams often do their everyday training skydives without direction.
Each day and camp should have a clear purpose. For example, your team might be working on block execution, staying closer on the hill, or random sprints between blocks. Being able to point to a series of concrete objectives makes it more likely those particular skills will move you forward to your big goals.
It isn't directly formation skydiving but you can improve your average if you master your landings, increase your fitness, try meditation, learn to handle criticism well, and set targeted daily goals.
Look for 4way events from Fury Coaching to put these skills into action.
Search:
Event
Venue
Date
Frikken "One-Shot" 21-way

Skydive Perris

Register
Saturday Spin Up

iFly Oceanside

Register
Frikken "One-Shot" 21-way

Skydive Perris

Register
Saturday Spin Up

iFly Oceanside

Register
Frikken "One-Shot" 21-way

Skydive Perris

Register
Related
How to Give Criticism Like a Champ
How to Take Criticism Like a Champ in Formation Skydiving