Learn these formations first
Monday, March 1, 2021

When you first start skydiving, the different formations groups do seem oddly named, infinite and confusing. By learning the common shapes and names you will be able to pick up new dives like a pro! Check out the 2 way grips, star, open, zipper, donut, sidebody, and bow below. Download the cheat sheet at the end!
A word of warning: there are no official names. Even some of the common formations can have different names (stairstep and phalanx for example). Many formations you can create do not even have names!
2-way Grips
All formations are comprised of these 8 basic shapes. Study these first, and you will be well on your way! These formations can be mirrored, angled, or cheated. Learn more about what makes a formation a formation here.
| | | | |
| --- | --- | --- | --- |
| | | | |
| Pin/Star | Open Accordion | Half Star | Sidebody |
| | | | |
| Compressed Accordion | Cat | Phalanx/Stairstep | Bipole |
Star
The most obvious shape is common. It can be any size from two people to infinity. Sometimes called a round. Sometimes called a BFR (Big @#$% Round). At modest numbers of flyers, it is a fantastic beginner formation. And it is easy to remember!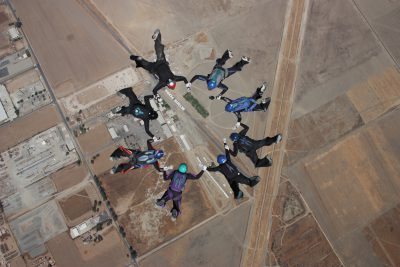 Open Accordion
Open Accordion is also the name of a single grip but it can be expanded to infinity. Usually just called an "open". Related to its sibling the compressed accordion. A beginner-friendly formation.
Zipper
Can be expanded to infinity. Looks like a giant zipper when there are enough people. A beginner-friendly formation.
Bow
Super popular and friendly 4-way exit. Besides the exit, it has a medium difficulty to build in freefall. Make sure the two center people are almost parallel so the person in the back can reach. Learn how to launch a bow here.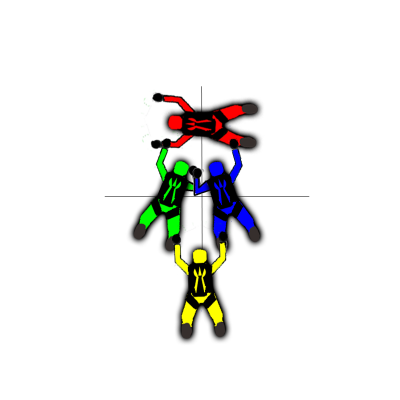 Donut
Can be 3-way to infinity. If you are grabbing left legs with left hands it is called a "left-handed donut". If you are grabbing right legs with right hands it is called a "right-handed donut". Easy to understand this formation, but it is a medium challenge to build. It requires a lot of cross-referencing.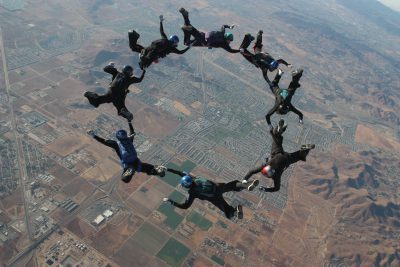 Sidebody
Another basic grip that skydivers can expand to infinity. Medium difficulty to build because it requires solid grip taking skills to pick up a sidebody.
Want to try some of them out with Christy? Book some tunnel and learn more.