Stop looking so confused about an exit frame
Monday, May 10, 2021

When you start multiple plane formations, the coaches will add a walkthrough phase called the exit frame. I remember going through these motions on my first few big-ways – I had no idea how it was supposed to help. What's that Dan BC? We are standing here now? Ok. Sounds great, I think?
But after I figured out what the purpose was, it became a handy tool! With it, I learned to understand what I would see when I first hit the air.
Otter droppings
When there are multiple planes, each plane drops its jumpers in a line behind it, offset from the other aircraft. From this spot, identify the base and fly to your radial before starting your slot approach.
Or as I like to think of it, the planes poop out the skydivers in a long row. From here, fly around the formation to get to where you have a straight shot to your spot.
Note that things would be a lot more stretched out in real life, especially for the divers!
Exit frame is where you should hit the air
This stage of the walkthrough demonstrates where you will pop out relative to the base. If things go perfectly, it can help you understand if you will be "under" looking up at the base, parallel to it, or diving down towards it. With that in mind, you should figure out how you will need to fly around to your radial.
Stand here
So how do you do it? In a simple two-plane configuration, the floaters end up ahead of or under the base. The first divers end up right in front of it. The rest of the divers stretch out behind it.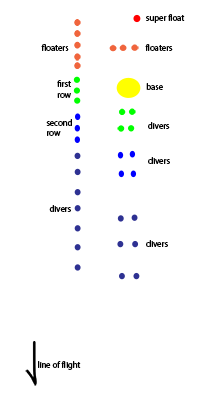 So when you walk the exit frame, you should stand about in these spots!
Even more planes
If there are more planes, the idea is the same. Your line will be offset and stretched out on the path your aircraft is flying.
Less Than Perfect
Not every formation ends up exactly like the exit frame. Sometimes the super float leaves too early, the planes are far apart, or the base funnels. The exit frame is still useful though because you will recognize these pictures and decide the new path faster!
Pay attention to these things
There are a few things to notice in this part of the walkthrough.
Identify the line of flight
The absolute first thing to notice is which way the plane is flying. The line of flight will help you identify where the other plane is. No matter where you end up, this is the first order of business here.
See how you might fly to your radial
As mentioned above, see how you are going to get to your radial. You might have to fly around the base to the left or right to get on the straight path to your stadium picture.
Look for traffic issues
Do you have to cross somebody, or is someone blocking you? Try to adjust your timing to avoid each other and take note of the traffic. If it is awkward, talk about a lineup adjustment. Ask your plane captain!
Multiple visual guideposts
As with all walkthroughs, I never miss a chance to look for multiple references. Don't just focus on the base, but pick a few different people in the formation to know where you are going. This will give you a map in case things aren't quite perfect!
An exit frame is a useful tool in multiple plane formations. Use this phase to see where your radial should be, watch out for traffic issues, and build your mental map of the formation.
Looking to try big-ways? I recommend a P3 Big Way Camp. They will teach you all the terms and techniques you need!
Tags: prep