8-way Basics – Center of the Formation
Thursday, May 9, 2019
This is a short series of articles that will help you break down and understand how 8-ways are built.  While focusing on the formations in the competition pool, the tools shown here are highly transferable to general formation skydiving.
8-way Basics: Finding your slot
8-way Basics: Finding your clone
8-way Basics: Finding the centers
8-way Basics: Build the center first
8-way Basics: In-facing strategy
8-way Basics: Staged setups
8-way Basics: Round formations
8-way Basics: Fall rate
8-way Basics: Shared keying
8-way Basics: Line between point and tail
8-way Basics: Block inters
Centers of the Universe 8-way Formation
First notice many 8-way formations a center grouping. The center four people are typically building a simpler 4-way formation (like a Donut or a Star) within the larger 8-way formation.  Just like 4-way, the center's role includes setting the angle, giving keys, and managing fall rate.
Considering what shape the center four are completing will help you understand the whole formation, not just your bit!
Understanding how the full formation is constructed helps you build it.
Not all formations in the dive pool have an obvious middle 4-way.  In these open formations, the center four flyers are still setting angles so it is still worthwhile to identify these more ambiguous setups.
Springbok Example
Now for a Springbok!  See that this formation has a simple 4-way Donut in the center and Bipoles on the outside.  For 8-way formations the Outside Front, Outside Center, Inside Rear, and Inside Center work together to build this Donut before the outsides can be constructed (but more on that later!)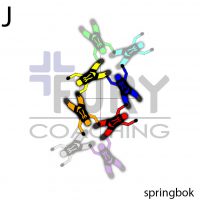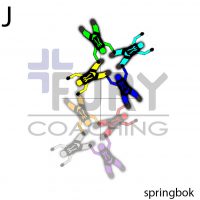 Coach's Tip
Inside Front and Outside Rear should wait in-faced until the Donut is complete and the Point/Tail is in the correct place.  When the formation is level, still, and welcoming, then out-face.

Outside Rear and Inside Front can use a secondary reference of the Inside Rear and Outside Front respectively to perfect their Bipole shape.
Tags: 8way