How to enter a wind tunnel without screaming into the glass
Thursday, November 7, 2019

Getting in the tunnel can be intimidating at first, but there is a tunnel instructor who will guide you until you get the hang of it. Read below for some tips to speed up the learning!
The Crouch and Slide Method
There are a couple of methods for you to hop in but this is my personal favorite to start. If you are struggling your coach or tunnel instructor could recommend an alternative that might work well for you!
Crouch down with chin up
Get low near the door. Put your chin up and look towards the opposite wall. Bring your arms close together.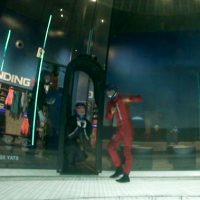 Enter horizontally
When the instructor indicates the wind is ready, slide in horizontally – parallel to the net. Imagine you are sliding your belly onto a creeper in the middle of the wind. Think about slipping into the air stream instead of jumping upwards. If you enter at an angle you are likely to get shoved right back out the door.
Stop immediately
Once you are in, think about stopping immediately. If you get the angle right you will have a chunk of forward momentum throwing you towards the opposite wall. Think backward – very bent knees, arms outstretched – to keep yourself in the middle.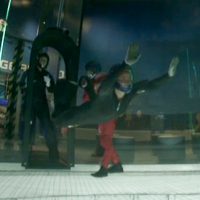 Fancy flourishes
As you get the hang of a basic entrance, try to improve your skills with these drills.
Enter – but stop near the door
Aim to get into the tunnel, but stop just outside the door. Being able to control where you 'pop in' will help when you are doing 4way!
Stop the rocking
When you enter, try to smooth your move out and extinguish any rocking motion you might have. This usually is the result of people entering tipped head low or head high.
Fly in backward or sideways
Once you have those tricks down, try entering through the door backward or sideways. You can do these in steps while holding onto the door frame to get the hang of it.
Launch two-ways
If you can launch backward and sideways, you are ready to try launching a linked two way! Pins and sidebodies work great but you can do anything! If you launch a cat be a little cautious about the legs of the front of the cat coming up and kicking the back of the cat though.
Don't be daunted by hopping into the wind! A little practice and you'll be doing tricks in no time.
Want to get your tunnel on? Check out Fury Tunnel Lab or contact Christy for coaching any time!
Tags: Tunnel