Prepare to rock your first big way camp
Monday, March 22, 2021

Signed up for your first big way camp? Eager to prepare, but don't know what you can do before the event even starts? Show up ready to have the best time ever!
Practice the skills
Do your best to improve your skills before you show up! Focus on fall rate range, diving, fundamental discipline, tracking, emergency procedures, and canopy skills.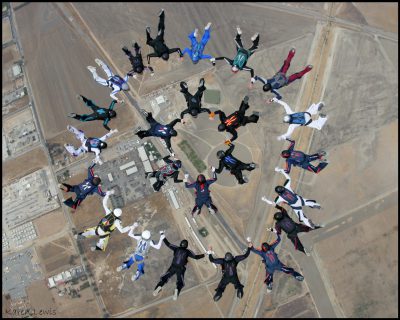 Mini-big ways
If you don't have access to a big way at your home dropzone – or even a medium-way, you can still practice! Do your drills in a two-way situation where one person creates distance and the other practices diving, stopping, and matching fall rate. Make the most of whatever you can do in small numbers!
Grab some knowledge
Read as much as you can. If your event is a P3 event, you'll get literature beforehand to familiarize yourself with the terms you will hear at the camp. Check out the Perris Organizers' very complete guide on big ways – it covers everything from seating arrangements to common fall rate issues. Of course, read up on the furycoaching.com blog for tips; in particular, check out The Ultimate Guide To Not Going Low.
Find tunnel now
If you have never done tunnel, or don't have much tunnel time – find some beforehand! Just a few minutes can make a world of difference in your ability to move around in the sky. You can target specific skills you will need – fall rate, stopping, gripping, and stability – in a safe environment.
Skipping the tunnel means you will need to focus precious mental energy on how you are flying. I can't recommend this machine enough for preparation. You are so much more likely to be successful and unstressed in your camp if you train in one!
Hit the easy button
Travel can be challenging. Line up everything you can in advance, so you only have to worry about how much fun you will have each day.
If there are details you can sort ahead of time – like getting your gear in date, filling out a waiver beforehand, renting weights, arranging local transportation, or a food plan – do so. The less you have to cope with when you get to the camp, the more you can concentrate on being awesome.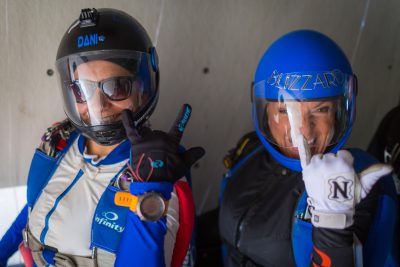 Stretching/fitness
Start stretching now! Mainly focus on your hips, neck, and shoulder. The more flexible you are, the more fall rate range you will have!
The fitter you are, the easier it is to cope with long days of walking, creeping, jumping, packing, and debriefing. If your body isn't stressed as much but these taxing activities, it has more energy to perform.
Plan on being rested
If you can, avoid showing up just before the start. If you are exhausted on day one due to red-eye, jet-lag, or just working to make up for the vacation, you won't absorb as much information. You'll also be more likely to make errors.
Show up as early as you can and get the best rest you can.
Check your equipment
Check and double-check your equipment! Make sure everything is in date and maybe make a gear checklist for packing. You don't want to show up without your jumpsuit!
That summarizes your list of what you can do before you get to your first big way event! Use your excitement to get you primed to have a successful, safe, and fun experience!
Get some tunnel to prepare!


Tags: training