What I look at when I dirt dive a big way
Monday, April 19, 2021
If you have been to a big-way event, you know that we spend a lot of time walking and practicing our skydive. Here is what I look at when I am walking a big way to make this time count.
Pay attention
It may seem like a no-brainer, but I make sure I am paying attention. It is easy the first time walking a jump, but you might zone out after days and days in the sun. Walkthroughs are invaluable opportunities to rehearse the jump and reinforce the habits I want to build. I work hard to focus at every opportunity.
Build a map
The most critical piece of information is the "map" of the skydive. First, learn who you are docking on and where you are relative to the base. Your slot is the bare minimum of how you will find your radial and join the formation.
But in the subsequent walkthroughs, I am building out a bigger and more elaborate map of who is where. I don't just pick one person in the base; I try to learn them all! Each time I walk, I try to pick out and place more people in my area and around the formation. I look for colored jumpsuits to either side and across the formation.
Later, when I visualize, I try to recreate that map. Having many references helps me find my position faster and more accurately, even when the base funnels!
Traffic around me
As I walk through my approach, I pay attention to how the people around me are moving to their slots. Noticing this alerts me to any traffic and helps me avoid cutting folks off later in the air.
Likely exit frame
If there is more than one airplane, the big way will likely do an exit frame as part of the walkthrough. An exit frame lines up other planes relative to the base. Hypothetically this is where you will see the base when you first hit the air out the door.
The exit frame can vary a lot in real-time – but it is good to notice where it should be so you can adjust the mental expectation of your approach.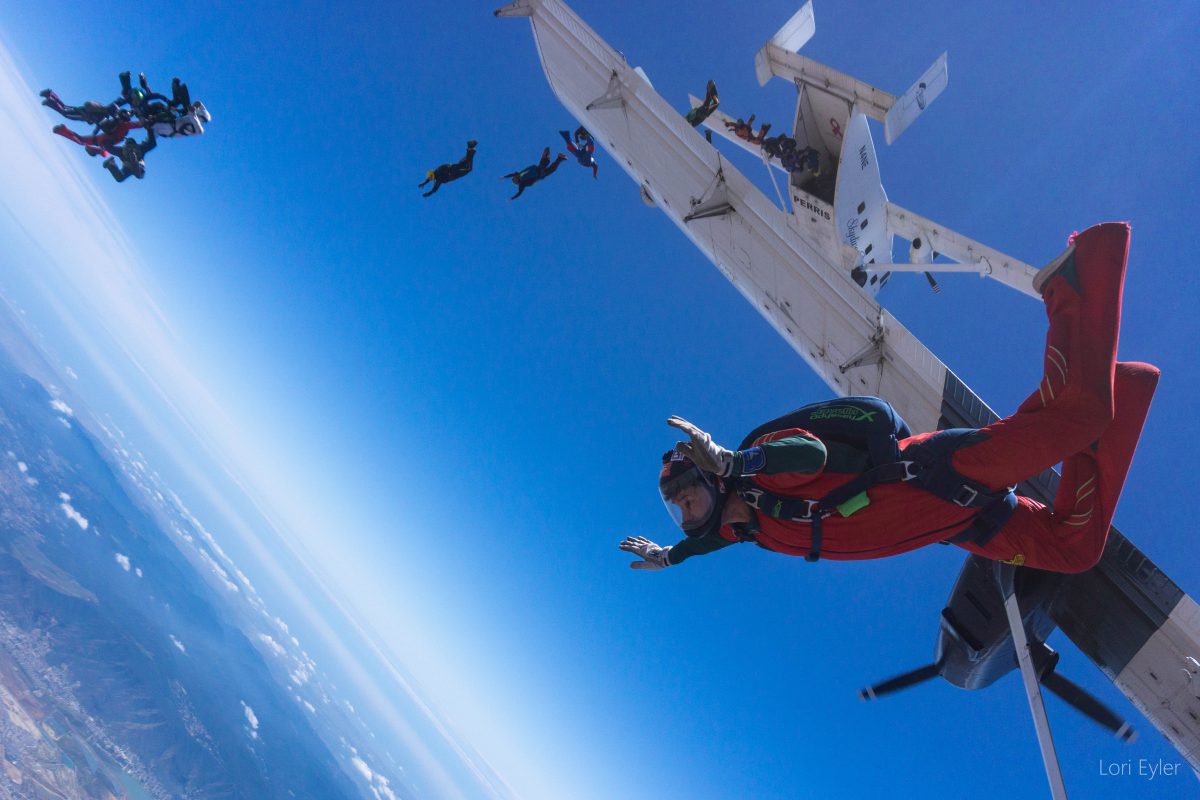 Fall rate cues
Finally, I look to see where I am relative to the center and what the formation is like to make my best fall rate guess. If I am close to the middle, I can get my weight belt and fast falling jumpsuit. If I am out on the edge I can get a slower suit with less lead.
There is no miracle way to know for sure on a first jump, so I make my best guess based on the intel I gathered in the walkthrough.
Notice more than just your slot, build a full mental map and be prepared to perform on every big way jump!
If you enjoy this article and want more tips about big ways, general formations, or competition, subscribe to my newsletter. You'll get links to my latest articles, bonus tips, and updates on FS events.
Tags: prep